Product Description
Truth For Today Commentary
Ecclesiastes and Song of Solomon
by Denny Petrillo
The wisdom of Solomon is preserved in the Old Testament. Ecclesiastes is the record of his search for the meaning of life. Denny Petrillo leads readers through Solomon's discoveries that only God—not pleasure, profit, or prominence—can make life worthwhile. In the Song of Solomon, we find examples of faithful love and the beauty of marriage in the story of the king's bride.
"Dr. Denny Petrillo's reflections on the prophetic Book of Ezekiel are both insightful and practical for anyone attempting to understand or teach this great book. His knowledge of the original language, his strict devotion to literary context, and his thorough knowledge of the Bible text in general makes him uniquely qualified for this task. His years of work with the church also make his insights very practical for believers of today.
Dan R.0wen, Ph.D., pulpit minister Broadway church of Christ, Paducah, Kentucky
TRUTH FOR TODAY COMMENTARY
"An easy-to-read commentary that applies the truth of the Scriptures to everyone's life."
The Truth for Today Commentary series is being written in an effort to complete a commentary on every book in the Bible. This series is being written by Bible professors and preachers of the churches of Christ, congregations dedicated to being the church that Jesus built. Using the NASB 1995 updated edition, each volume provides remarks on virtually every verse, and each chapter ends with an application section Which offers suggestions for developing sermons and Bible classes.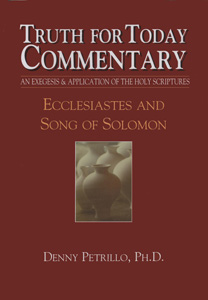 Author: Denny Petrillo
Publisher: Resource Publications
ISBN-13: 9780945441571
Dimensions: 9.3 x 6.3 x 1 inches
Page Count: 478
Binding: Hardcover