Product Description
"Owl" Always Love Jesus!
Shape Stickers
Motivate and inspire students with adorable Owl Always Love Jesus! shaped stickers featuring the Carson-Dellosa Colorful Owls. Includes 72 stickers total, 6 sheets with 12 stickers each. Stickers are perfect in the Sunday school room or at home, to reward students. They provide positive, inspirational reminders that are sure to brighten any students' day. Ideal for prize boxes and craft projects, stickers and are an essential addition to any teacher's desk or treasure chest!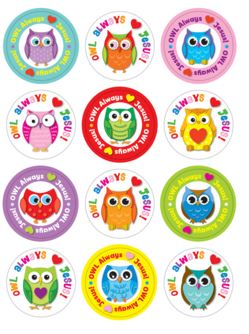 Publisher: Carson-Dellosa
ITEM: CD-168164
ISBN-10: 044222237653
ISBN-13: 9781483805887
Dimensions: 4.75" x 7.5"